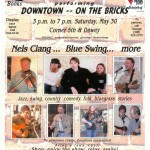 This from George & Sharon,
There will be a "best of open mic & special friends" entertainment downtown, starting around 3 pm. May 30 (Saturday). It will be at the corner of 5th and Dewey. Dewey St. will be closed to motorists between 5th to 6th.
We will go into the evening — as long as performers are in the mood.
If you want to perform let George know  — george@northplattebulletincom. We'd like it if you do.
Performers must sign up, but there might a little open time at the end of the evening.
Nels Clang (and friends) and Blue Swing are featured acts and will play up to 45 minutes each. Their show will break every 20 minutes or so for other acts. Variety is the spice of most everything.
Nels will play near the start of the day and Blue Swing will play about 5 p.m. There will be time for lots of performers.
A key to success will be to hold the crowd. Practice a little and bring a smile. Help people feel welcome.
Sharon and Vickie will help you arrange a display table if you have wares (art, recordings, cookies-brownies. etc) to sell. Call them at the store – 534-0140. Terri at the Espresso Shoppe said she will give a discount on drinks.
Bring lawn chairs. Donations will be appreciated.
Food will be sold at the Espresso Shoppe and the "new" Thai Restaurant we believe the restaurant is open till 9 p.m.
Thanks for inspiring us to try this,
George & Sharon
Sponsored by A to A Books, the North Platte Bulletin, Original Town & the Downtown Merchants.