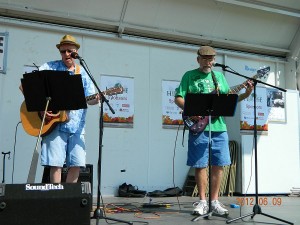 Half of the Flat Rock Irregulars plus Tim played Saturday morning at the Heritage Festival. The Heritage Festival is held at the Lincoln County Historical Museum. Since Maggi and Stu were unavailable for the gig Don and Ed carried the Flat Rock Irregulars. We invited Tim to join us.
It was a good day at the Museum a bit on the windy side and verging on hot. It ended up well into the 90's before the day was out. We had a great time and made some good music as well.
Our play list included: Come In, Old Dun Cow, Gimme A Stone, Pastures of Plenty, The Juice of the Barley, Gypsy Rover, This Land is Your Land, Jesse James, and Gentle Annie. Tim thought ending with San Francisco Bay Blues would have been a great ending song. We created a longer play list than time allowed. We didn't get to Rocky Top, San Francisco Bay Blues or Parting Glass. Maggi usually sets up our play lists and she is good at matching the number of songs with the time we are allotted. It was a great set and I am proud of what we accomplished today. Thanks Ed and Tim.
The Irregulars are scheduled to play at the Prime Rib Sandwich Feed on Wednesday, June 12th in Downtown North Platte, at 6th and Bailey. Join us for a sandwich and some good Irish music.


Thanks to Bill for the pictures.